Smartwatches have combined the convenience of wrist watches and computers. After all, we consider smartphones our 'mini-computers,' and having access to your phone like this – all on your wrist – is simply amazing. But enough about the speech on our rapidly growing technology. We know today's tech is simply surpassing greatness. And the next greatness for smartwatches? These upcoming ones for 2017.
Misfit Vapor
Release Date: 'Late Summer 2017'
First thing to note about the Misfit Vapor? No phone required. You can get countless features your phone has right on your wrist. A few things included (but no limited to) are
Music
GPS
Bluetooth connection
Heart rate monitor
Sleep Tracker
The Misfit Vapor smartwatch definitely offers a nice sleek design to appreciate. You can also download hundreds of apps, and this smartwatch is compatible with the Android and iPhone smartphone. It also includes Google Fit and Google Assistant.
So much of things you couldn't get anywhere from your smartphone? The Misfit Vapor is now allowing all of that!
Android 2.0 from Movado, Hugo Boss, and Tommy Hilfiger
Release Date: August 2017
Breaking from Switzerland, expect the new smartwatch collaboration from the these three to be a growing trend. The most affordable one so far is the Tommy Hilfiger at $299, but it won't launch until late 2017.
The Hugo Boss Touch is a beauty. It's made from stainless steel, allows for several wristband options, and five watch faces. NFC is also included with the Android Play.
The Movado Smartwatch has the most features by far. It includes fives styles and "more than 100 dial designs that are based on the company's single dot design" according to androidandme.com.
Tag Heuer Connected Modular 39
Release Date: October 2017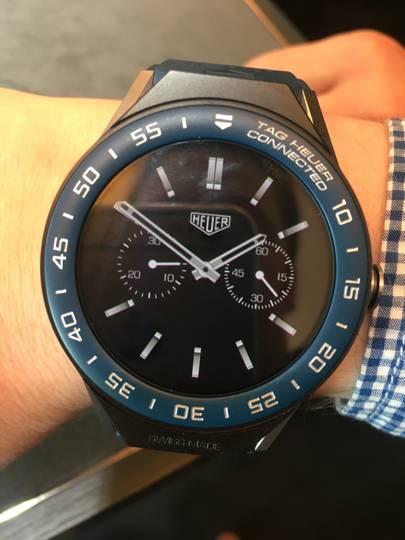 At this point, the Tag Heuer smartwatch is aiming for female-friendly styles. It already adheres to men, but it'll be updating its smartwatch for the women out there. The watch will be smaller and still include all of the watch's features.
We may be even consider some of the watches Tag Heuer is making to be unisex. But there's no doubt that the current smartwatch is made a men's style. We look forward to the Tag Heuer to appeal to everyone as of October 2017.
Fossil Q Venture and Q Explorist
Release Date: Fall of 2017
As of now, little is known about the Fossil Q Venture and Q Explorist, but we're counting a sleek design from the company. It's already been confirmed that they will follow along with the Android Wear.
Fit bit Smartwatch
Release Date: Unconfirmed –  Our Predictions? Late 2017
It's about time Fitbit came out with a smartwatch. We knew, at some point, Fitbit was going to join the road to greener pastures. And it sure did. So, what does the Fitbit smartwatch look like? Well, it's quite similar to much of its recent smartwatches. In fact, we haven't had any 'wow' watches from Fitbit quite yet. They're all met with the same design and pretty much same features.
The Fitbit is supposedly water-resistant and a 'competitor to the Apple Watch' according to several tech review sources. A few things to expect from the Fitbit are:
GPS
Built-in Music Player
An app store (will be launched along with smartphone)
The Fitbit smartwatch looks to be following along the same path as the Fitbit Blaze. The Blaze, which is $150, is a great fitness tracker and tech watch to begin with. However, it's not a smartwatch. So, we don't know what to expect from Fitbit's upcoming product as of yet.
(Featured Image courtesy of bestsmartwatchescompared.com)
Blogger. Tech Writer. Wordpress Monster. Visit my websites emoijahbridges.com or savvyandbeautiful.com